How to Download e-pan Card — PAN card is one of those important documents without which nothing can be done. Whether you need an ID or have to submit an income tax return, PAN card is very important in both the cases. There are many important tax and investment related works for which PAN card is necessary. Imagine what would happen if such an important document gets lost? It is better if this does not happen. Welcome all of you to sarkariportal.online, today we are telling you some easy steps by understanding which you can download PAN card from your laptop sitting at home.
What is E-PAN Card?
Permanent Account Number-(PAN) i.e. PAN card is an important document. Without this there are many tasks which come to a halt. Be it filing income tax return or depositing more than Rs 50,000 in the bank. That is why nowadays it has become necessary for everyone to have a PAN card. But due to Corona virus epidemic, people are not able to go out of the house and get PAN card made. If you want to get a new PAN card made then you can get the PAN card made sitting at home. It is quite easy to apply online for PAN. You get your PAN card within minutes. This card is also called E-PAN. You can download it immediately after applying.
E-PAN is Better than PAN Card:
E-PAN is much better than the physical copy of PAN card. There is no hassle of losing it. However, if you want a copy of it, you can get it printed and laminated for Rs 50.
If you do not have PAN, these important tasks may stop:
It has been made mandatory at 10 places including buying a vehicle, opening a bank account, applying for a debit or credit card. Meaning, if you do not have PAN then many of your important works may stop.
PAN Card is Necessary for These 10 Works:
If you do transactions of more than Rs 2.5 lakh in a year, then PAN will be required.
PAN is mandatory for business establishments whose turnover is more than Rs 5 lakh. This is needed when starting a business.
If you are buying a car, bike or any vehicle then PAN is required.
It is necessary to give PAN when selling immovable property worth more than Rs 10 lakh.
PAN is necessary for any goods or services worth more than Rs 2 lakh.
It is also required for opening a bank account. If you deposit more than Rs 50 thousand in any account then PAN number is mandatory.
Even if you take life insurance worth more than Rs 50 thousand, PAN will be required.
Apart from this, PAN is required to invest in mutual funds, bonds, foreign currency, anywhere.
PAN will be required even if you buy unlisted shares worth more than Rs 1 lakh.
According to the new rule, now PAN number is used instead of PAN card. Also, if you want to get all the above mentioned work done, do not forget to carry a pen.
How to Download E-PAN Card?
STEP1: To download e-PAN card, you will first have to go to the official website of Income Tax https://www.onlineservices.nsdl.com/paam/requestAndDownloadEPAN.html. After this you will see the option to download e-PAN.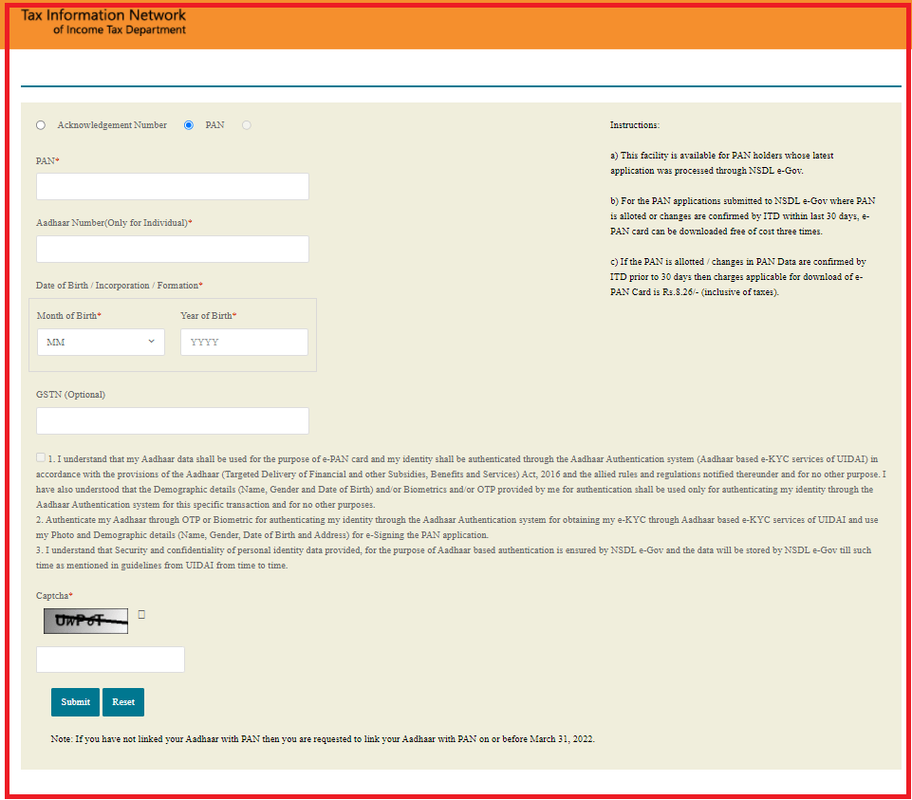 STEP2: After this a form will open in front of you. In which you have to enter information like your PAN card number, Aadhar card number, Date of Birth, etc. After that enter captcha code and click on submit button
STEP3: After this an OTP will come on the mobile number registered with your PAN card. Type that OTP in the asked space on the website and click on the submit button.
STEP4: After submitting the OTP, a payment option will appear. You can pay Rs 8 26 paise through your debit, credit card or UPI, you can download the e-PAN card as soon as the payment is completed.
STEP5: This PDF file of PAN card will be password protected. Your birthday will be its password.
How to Download e-pan Card, How to Download e-pan Card, How to Download e-pan Card, How to Download e-pan Card, How to Download e-pan Card